Welcome to 10/33 Ambulance Service, Ltd.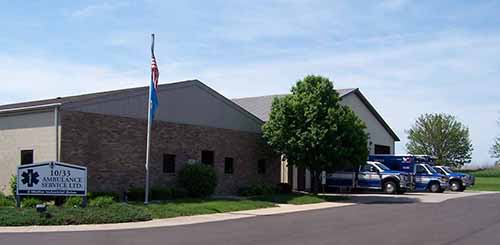 A not-for-profit, non-taxing organization formed in May 1973. Founded by George Butterweck and a group of volunteers, 10/33 Ambulance Service, Ltd. has grown to a full-time crew that responds to emergency medical services 24 hours, 7 days a week. Our volunteers continue to dedicate their time and experience to the residents of our communities of Spring Valley, Ladd, DePue, Dalzell, Cherry, Hollowayville, Seatonville, Hall Township and Selby Township. Our professional teams consist of emergency medical technicians basic's (EMT-B), paramedics (EMT-P), critical care paramedics (CCEMT-P), and pre-hospital registered nurses (PHRN) who excel to meet today's changing medical needs.
10/33 Ambulance Service., Ltd is located in Spring Valley, IL, 61362 and is staffed with full-time crew of paramedics providing Advanced Life Support in a medical emergency. Additionally, we have a part-time crew of EMT-Basics and volunteers with the skills in Basic Life Support to administer the proper care. Our staff of paramedics and critical care paramedics are qualified to provide patients for critical, medical, or trauma conditions with intravenous therapy, cardiac monitoring, cardiac defibrillation, ventilator management, chest tube management and the administration of medications. The fulltime paramedics are certified in ACLS (Advanced Cardiac Life Support) and PALS (Pediatric Advanced Life Support) with the critical paramedics having further certifications in advanced BTLS (Basic Trauma Life Support) or Pre-hospital Trauma Life Support (PHTLS). The critical care paramedics have additional training in critical care inter-facility transports for patients who require a higher level of care. However, more importantly is the knowledge and experience our emergency medical technicians give to our patients and their family to ensure the comfort and care during emergency and non-emergency transports.
Our Mission
Dedicated emergency medical technicians who are committed to provide emergency and non-emergency pre-hospital medical treatment to prevent sickness, disease, and danger to oneself for the individuals of our community and throughout the EMS System.